Network marketing trade show booth
 Continuing on the Network Marketing prospecting series We will talk about doing a Network Marketing trade show booth
One of the many ways of expanding your leads and sales for your network marketing business is doing a booth at a trade show or business expo. I have done many booths at all kinds of health fairs, business fairs, golf expos and many more. Some have paid off some not. But I had a great time at all of them. I really enjoyed doing them.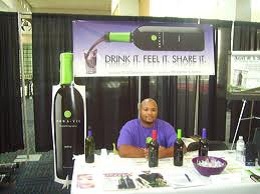 There is a big difference in cost so check around. One of the things I would suggest is team up with others in your downline or upline. It is not a good idea to split the booth with a crossline person just trust me don't do it. It would be best to do it alone then to team up with someone not in your team. If you're doing it with someone that is in your downline it's like double dipping. If they make a sale or sponsor someone it helps your business also. If you're doing the booth with your downline you can give them more of the sponsors it's a win-win for you and them.
Taking orders is so much easier now then back when I was doing them now with the smart phones you can get a credit card swiper for cheep and take CC's right there on your phone. You need to be able to take orders at the event. People will buy on impulse at an event.
Keep your cost down. The event can be very expensive. Keep your brochures back behind the booth so people will not walk by and just grab what you have out. Expo attendants will go home with a bag full of stuff and most will end up in the trash. Save your money. Find a cheap flyer or have a black and white one printed that is cheap to give to the average person save your nice brochures for the good prospects.
If you are giving out samples keep them small. If you have a juice buy the one ounce plastic cups all you need is to let them know it taste good. Maybe have bigger 2 or 3 ounce cups for your true prospects. Don't be cheap it will show but don't waste your money either.
Make sure your booth stays clean and looks good. Bring extra water bottles just in case an attendee needs one. Bring paper towels and washcloths just in case.
Have fun and be nice have a smile all the time. When you're not busy walk around and meet the other people running the other booths. Some of my best prospects came from the other people running the booths.
How to run a Network marketing trade show booth can be a very expencive event it also can be a very profitable. Watch this video for more information on Network marketing trade show booths.

What I do now is I go the business expos as an attendee instead of paying for a booth and meet a lot of people and also meet all the people behind the booths. The best days to go are Friday and Sunday. They are not that busy and you will be able to talk to the booth person and other attendees. Saturdays are too busy.

Chief Inspiration Officer
Vincent St.Louis
Fighting the forces of Mediocrity
If you found this article on Network marketing trade show booth useful please comment and share it
Read more on Prospecting techniques