Network Marketing Prospecting
Network Marketing Prospecting is your key to success.
There are many ways of network marketing prospecting. In this article I will go over the use of a prospecting CD or DVD. There are many benefits to using media as a prospecting tool. It is very duplicate able and easy for anyone to do. I like the CD over the DVD because the prospect does not have to wait to get home or to the office to watch. A CD can be played right away after you give it to them. Also anyone can make a CD, a DVD is not that simple. So I will be covering the CD mostly but the techniques can be used for both.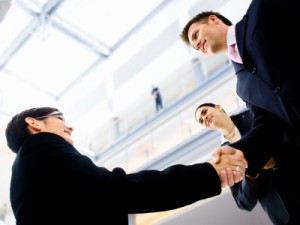 How to revive a dead or sluggish team.
The use of a prospecting CD is the fastest way to revitalize a dead or burned-out team. Gather your leaders or what's left of them together and have everyone commit to 6 months of all out massive action with a prospecting CD and watch your team get excited and rejuvenated. Have everyone commit to not questioning the quality or changing the CD for at least 6 months and watch your life change.
How to make a Network Marketing Prospecting CD.
There are two trains of thought about the CD; one is tell them everything on the CD, that way you are sitting down with only people that wants what you have, the other thought and the one I agree with. Tell them something to pique their interest only then sit down with them to tell them the whole story. This way of network marketing prospecting is what I will cover although you can use my system with whatever media you choose.
The CD does not have to be professionally recorded. People are more interested in the subject then the quality. If you're able to recording a CD with leaders in your area will be a plus. That way at the 1 on 1 you can tell the prospect they can meet the people on the CD at your next meeting. I also like to record a CD with more than one person and a man and woman if possible.
Here is a sample of a CD I use in our team.
Track
2) 2Clif MP3
3) 3 tonaya mp3
4) 4 Lorria MP3
On my recordings I DO NOT mention the word network marketing except maybe in a quick passing or we don't talk about our company. This is my reason why. Most people have a set idea what the word network marketing is to them. Good or bad that set vision is not what you are going to offer them so they need to see what you're sharing. If the set vision in their mind is from the family member that bugged the shit out of them that's what they will think this is as soon as they hear the word or maybe it's the vision of the co-worker that never stopped talking about it, or the newbie MLM'er that just did a bad job and turned the person off. Think about the vision that can pop up in the new prospects mind when they hear the word network marketing. Belly to belly is the place to talk about what you're doing. The same is true with your company, product or opportunity. Whatever they think it is, is not what you have to offer. You are different and you have people skills to share what you're doing the correct way and that is how you need to look at it. They may have seen your opportunity 10 times but they have not seen it from YOU.

You can buy already made so called prospecting CD's from many people like Robert kiyosaki , Bob Proctor, David Bach and many more. Just take a look at Networking Times website you will find many of them many of these CD's are good but in my eyes that are a great follow-up tool NOT a prospecting tool. Make sure you get your FREE copy of Networking Times. They spend the whole time selling Network marketing and for the most part they have never built a network marketing business, but even if they have the time to sell network marketing to your prospect is looking in each other's eyes over a cup of coffee or where ever. Mark Yarnell has a good one on a website that you can listen to and get a few ideas at 15yearsleft.com
You can also put the recording on a recorded call in number for prospects not in your area. I use simplevoicebox.com and I use the privet number without an access code. It's only $5 a month.
How to use a Network Marketing Prospecting CD!
KISS- "Keep It Simple Silly" I ask are you open to other business opportunities, or do you keep your income generating options open or something like that. If yes I give the CD get their cell phone number and ask when they will listen to it. Schedule a call back time to follow-up and I leave.
On the follow up phone call I ask one question "what did you like best about it" I don't ask what they thought, I don't ask tell me about anything. I ask only What did you like best. No matter what their answer is I say " that's great we need to sit down to tell you more" Even if they say I did not like anything. If they will schedule a time I schedule it. If they ask me to tell them more or tell them what the company is I say " I would hate to ruin the ending, and you can't give a hair cut over the phone and I can't tell you about my opportunity over the phone, So did the recording interest you enough to sit down for 20 minutes" If they say no I'm done the CD worked. If they don't answer the phone I leave only three messages and that's it.
Watch this video on how to use a Prospecting CD
Remember you're looking for people that are looking. Not to convince people to be looking.

Chief Inspiration Officer
Vincent St.Louis
Fighting the forces of Mediocrity
If you found this article on Network Marketing Prospecting useful please comment and share it
P.S. make sure you get my FREE prospecting recording for more details on how to use the CDs.
Read more on Prospecting techniques
`