Goals, Dreams, and Commitment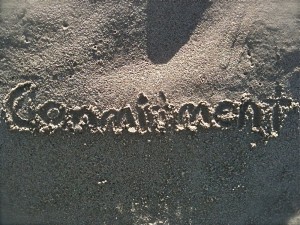 Commitment is key. Commitment to your goals, your dreams, and your family.
What are you committed to?  What does commitment mean to you?
The more committed to your daily method of operation the more successful you will become. Your  daily method of operation (DMO) is the key to reaching your goals. Commitment is the ability to do whatever it takes to get the job done. If you let yourself slide today on your commitment to your DMO it will be easier to slide next week as well. The more you compromise on your commitment the easier it will become.
The lack of commitment will continue to other areas of your life. As you stay committed to your commitment it will become easier to stay committed.
Commitment without faith will frustrate you. Faith without action is a wish. Action without purpose is meaningless.
Let me tell you a story about commitment
As I was building my Network Marketing business a few years back, I was committed to my goal of  talking to X  number of contacts a day.
Late one Sunday evening I was on my way home  and I had not reached my goal for the day, but I had a great week. I hit my goal every day that week and I was feeling pretty good about myself.
I was very tired and started justifying  that it was only ONE contact.  I did great this week! Monday starts a new week.
It's funny how we justify our actions
So I started on my way home feeling good and Ok with my justification. I started feeling guilty. I was cheating myself. You know, when we justify we are only lying to ourselves. We are the only ones that really know what the truth is.
I started thinking if I allow myself to cheat this time it will become a habit. So, I turned the car around and found an Real Estate Open House.
To make a long story short, I ended up sponsoring the Realtor. Because of that one decision to turn the car around. He led me to over 800 people on that team in four countries. I can tell you countless stories of being committed to my DMO that turned out to make all the difference, but I can also tell you many stories where I made the extra effort and I did not see any benefit.
I want you to know the best benefit of your commitment to your goals are the benefits you can not measure and you can not see.
Those benefits are called character.
And that is worth more than any of the 800 team members.
Be committed to yourself and become a WINNER
Tags: Commitment, dreams, goals