Zeek Rewards Scam
Many unqualified people claim the Zeek Rewards Scam.
NOTE; The shut down of Zeek was very unexpected and effected a lot of people. If you would like to know how to protect yourself from future unexpected income changes. You need multiple income sources. The internet is where ALL the wealth is going and coming from. Learn how we create multiple GLOBAL  incomes all online. If you would like to know how to create multiple GLOBAL incomes watch this video and let me help you protect your financial stability with Internet marketing. http://98000hours.com 
 Here are the facts. Is Zeek Rewards a scam?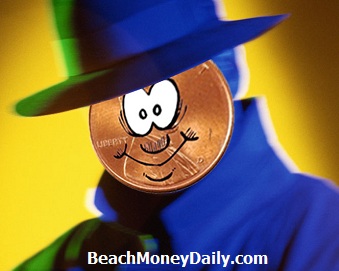 Well lets not take your brother in-laws word for it, or the knucklehead in the cubical next to you, lets look at the the homebased business annalist are saying about Zeek Rewards.
Lets start with the claim of a FTC worming; Here are the facts.
  FTC Issues Consumer Alert On Penny Auctions
Zeek Rewards CEO Paul Burks found it necessary to shut down an undetermined amount of international affiliates from several different countries.
Over the last few months, Zeek Rewards has faced international fraud exposure in several cases and at one point made the decision to shut off credit cards for Zeek Reward affiliates, while continuing to accept them at the Zeekler penny auction site.
We are not for sure if this development, has anything to do with the international credit card fraud that has been causing issues in the past.
With that said, the FTC issued a Consumer Alert back in August of 2011 which does bring to light some of the issues.
However, what is most interesting is that some people have decided to use this FTC Consumer Alert to try and raise the questions about Zeek Rewards being some form of scam! Instead I believe this Alert helps explain more about what faces both the penny auction companies and those who take part in them.
Watch this video where Troy Dooly of The MLM Help Desk explains this FTC action.
Something else that stands out, is the fact, the FTC has been aggressive in shutting down illegal penny auctions for over a year. Common sense would tell us that with the massive growth this company has had, they have caught the eyes of the FTC and to date have not had any issues.
In my opinion, based on the amount of money Zeek Rewards have invested in compliance and legal teams over the last 90-days it is clear they are going above and beyond what other companies in the same niche seem to be doing.
Read the full FTC report here
FTC Consumer Alert On Penny Auctions
The Network Marketing Business Journal Vol. 27 Issue 4 dated April 2012, just made several announcements about Zeek Rewards. These announcements hold Zeek Rewards in a whole new light inside network marketing and shed new light on Zeek Rewards legal and compliance foundation to prove once and for all that Zeek Rewards is not a pyramid or ponzi scheme.

You can grab your own copy at any major bookstore or directly from NMBJ!
Highlights of the article titled: Zeekler & Zeek Rewards – Rex's Venture Group's one-two punch, knock-out combo is leading the industry in their commitment to compliance
World's First Distributor Compliance Course – Created By MLM Attorney Kevin Grimes of Grimes & Reese
MLM Attorneys Gerald Nehra & Richard Waak – Hired to ensure compliance in all aspects
Dr. Keith Laggos – Hired to review and modify Zeek compensation plan
Greg Caldwell – WhiteHat Solutions aka Direct Sales Compliance to fight the cyber fraud and compliance issues.
Bonefant & Weinberg – SEC and MLM Attorneys hired to cover all Securities and Exchange Commission compliance
Howard Kaplan – Tax Attorney and IRS Specialist to handle all tax compliance
All Commissions are paid out of current sales revenues! Zeek Retail Point Pool consists of nothing but its current daily net, without absolutely nothing obligated from future revenues.
According to Network Marketing Business Journal Zeek Rewards has a 25 to 1 customers to rep ratio! That's the largest consumer to affiliate/distributor ratio. The next highest that has been reported lately is Body By Vi aka ViSalus Sciences at 10 to 1.
Zeekler and Zeek Rewards are a divisions of Rex Venture Group. Rex Venture Group has been in business for 15 years and has accumulated in excess of 3,000,000 million customers who buy and sell using their platforms on a regular basis. Before launching Zeek Rewards as the exclusive marketing arm for the company, Rex Venture Group launched Zeekler the penny auction as an addition to the Free Store Club. This is a similar move made by some of the most successful company in direct sales history, from Amway to Primierca. In a recent interview with the Wall Street Journal "Coty's hostile bid for Avon was so they could use the direct sales channel to cross promote their other brands" Using an exclusive marketing arm to drive revenues through the parent company and other divisions helps to cross-sell other products or services.
But the biggest news unveiled by the Network Marketing Business Journal is the Zeek Reward's Income Disclosure Statement. This may be the fastest time in history for a private held company in the network marketing community to release their field force income numbers.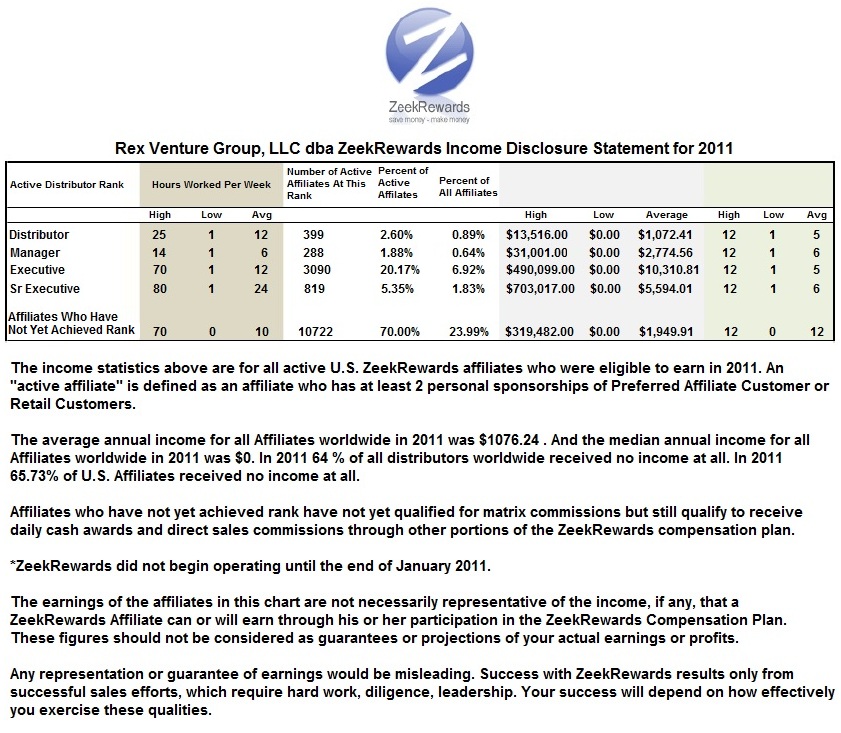 Watch this interview with Zeek Rewards COO Dawn Wright-Olivares and Troy Dooly Pt 1
part 2 interview with Zeek Rewards COO Dawn Wright-Olivares and Troy Dooly
Vincent St.Louis
Fighting the forces of mediocrity
~
Tags: Zeek Rewards Scam