Yelp Scam
The Yelp Scam is coming to get your money.
Yelp is a popular recommendation website. Where people can log in and give a comment bad, good or indifferent. But I for one have seen firsthand the facts that yelp is a scam.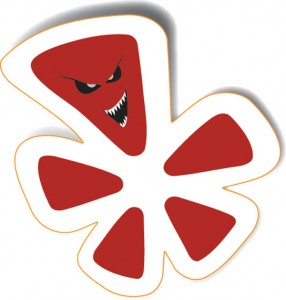 I work for a Medical Spa in the Sacramento area and after a person working at a competitor Spa wrote a negative review we did some research and found many good reviews that where filtered out and the one negative one was highlighted. We did a search of the lady that posted the bad review and found she worked at a competitor's spa. So we called Yelp to complain and they started on their high pressure sales pitches letting us know for a price we can have the negative review removed and the positives released. That's when I realized Yelp is a Scam and even probably could be classified as the same as the old crime boss "pay us and we will protect you from us" Another word for it is extortion.
After doing a search looking for other business people that have had a problem with Yelp trying to strong arm them into paying Yelp to remove bad reviews or even to unfiltered good reviews. Businesses have complained for years that Yelp's recommendation site pressures them into paying to remove negative reviews and highlight positive ones. The company has always denied that its allegedly aggressive sales force made a practice of strong-arming businesses into paying up.
The Yelp Scam goes to court
Yelp is being accused of extortion in a class-action lawsuit filed in Los Angeles week. The suit alleges that the site tried to get a Long Beach veterinary hospital named Cats and Dogs Animal Hospital to pay $300 a month — for a minimum 12-month commitment — to suppress or delete reviews that disparaged the hospital. This is the same conversation we had with the yelp staff.
According to the complaint filed in U.S. District Court of California, the site manipulates the reviews, through an extortion scheme that offers to remove a business' negative reviews or relocate them to the bottom of a listing page if the business purchases a monthly advertising subscription.
Yelp extorts business owners to purchase advertising to better their ranking. A business listings on Yelp.com, are in fact biased in favor of businesses that buy Yelp advertising.
Buyer beware of the Yelp Scam.
The suit's claims seemed to be backed up by an East Bay Express article published last year that also accused the site of running an extortion racket. In that piece, numerous business owners described similar scenarios to the one alleged by the plaintiff. The Oakland, California–based newspaper later reported that after its first story published, many more businesses from around the country contacted it to complain of similar experiences.
The internet is a powerful force to do well and to do bad. People like to complain. People that are satisfied usually don't comment. But with that said when a company like Yelp feed of the power of the complainer to extort money from business owners. It's a bad day.
So my warning to you as a business owner, watch out for the call from yelp because Yelp is a Scam.
If you're looking to complain about service make sure you are not just complaining because you're a jerk and that the business is really a bad business with bad service.
Chief Inspiration Officer
Fighting the forces of mediocrity.
PS. Are you looking to grow your business online. Blogging is the best way to gain first page on the searches. Watch this video HERE
Tags: Yelp is a Scam, Yelp Scam