WFG World Financial Group Review
In this WFG/World Financial Group Review I will inform you about my take on the company and opportunity.
World Financial Group has a mission: to help people from all walks of life build a better future.
World Financial Group has Power In Your Corner!
World Financial Group Inc., World Financial Group Canada Inc. and their affiliates are Transamerica companies. Transamerica companies offer a wide array of life and health insurance solutions that can help create better tomorrows for protecting families. As an independent business owner, you are backed by the marketing and administrative muscle of WFG's corporate offices and the support of experienced field leaders who have each built his or her own financial services business from the ground up — all of whom are dedicated to your success.
Helping people is at the heart of what WFG / World Financial Group associates do every day. Even in this time of unprecedented access to information, there remains a lack of financial knowledge among individuals and families. However, WFG associates are ready to provide the tools and guidance needed to help clients make informed financial choices and meet their goals. As a World Financial Group associate, you will help your clients understand fundamental financial concepts that give them the foundation to create a sound strategy. You can help clients create a better tomorrow for themselves and their loved ones.
Here are some facts about World Financial Group:
There are more than 34,000 life licensed associates throughout the United States and Canada
Securities and investment advisory services in the United States are offered through Transamerica Financial Advisors, Inc., Transamerica Financial Group Division
Mutual funds are offered in Canada through Transamerica Securities Inc.
Insurance products in the United States are offered through World Financial Group Insurance Agency, Inc. and its subsidiaries and, in Canada, life insurance is offered through World Financial Group Insurance Agency of Canada Inc.
Affiliated companies have agreements with many well-known insurance and financial services companies
WFG has Strength on Your Side
WFG associates have access to products and services from many well-known product providers that they can represent to clients. By maintaining selling agreements with numerous financial services companies through World Financial Group's affiliates, you, as a licensed World Financial Group associate, offer your clients the power of choice, which allows you to find appropriate products for your clients' needs. These providers are not only dedicated to your client's success but to your success, as well, by offering support, materials and training to help you build your business.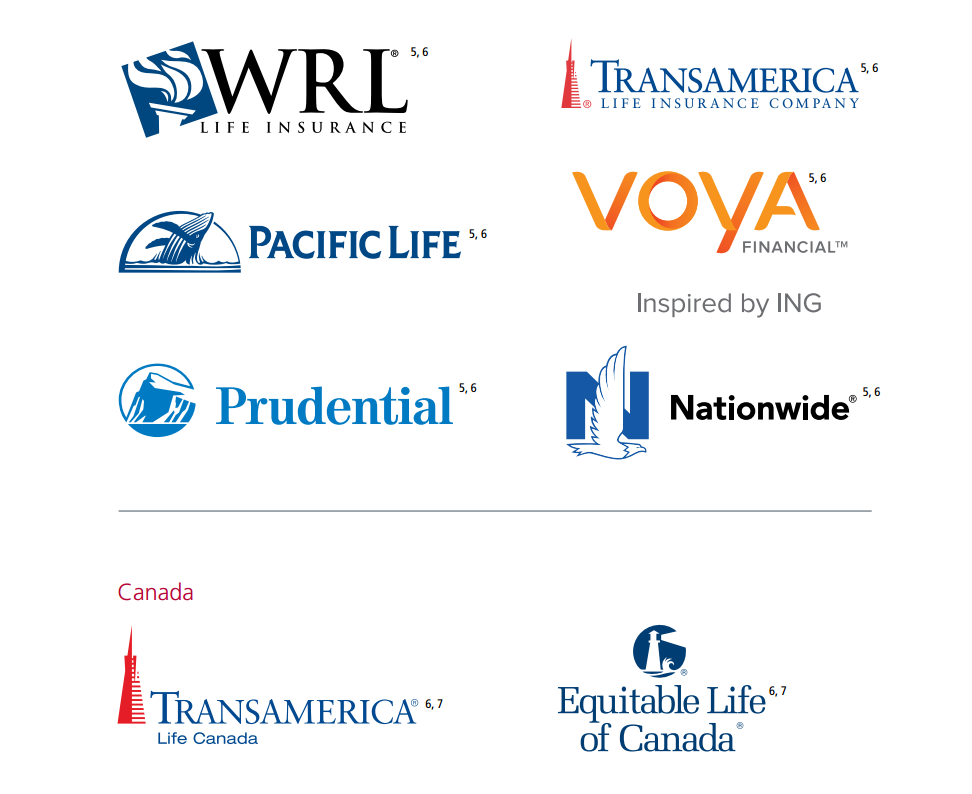 Get started with World Financial Group today:
To begin your career with World Financial Group, simply complete a WFG Associate Membership Agreement and pay an administrative fee of $100 (U.S.)/$125 (Canada).*
WFG is not a franchise and does not charge any franchise fees. The company's name and logo are available for you to use at no cost.
You set your own goals and your own hours — you are in control of your business and your time.
Not sure if World Financial Group is right for you? WFG offers a virtually risk-free way to change your career and your future. Start part-time , while keeping the security of your existing job, to see if a WFG business is right for you. Learn More HERE!
The World Financial Group Financial Needs Analysis
WFG associates offer their clients a professional and complimentary Financial Needs Analysis (FNA), which is the first step in helping to identify the core components of a client's financial health. Following are some key areas that an FNA can help to identify:
The World Financial Group Business System
One of the most powerful resources the company offers is the WFG System Manual, which provides a step-by-step process to help you build and continually grow your business. The WFG System Manual offers vital information, including how to:
Build a strong WFG business
Grow a client base
Bring new associates into the business
Mentor and train new associates
Develop a plan for success
Back Office Support
Training & Events
Recognizing Your Achievements with Reward Trips
World Financial Group offers leading-edge support and services to make your business strong
Expand Your Business
In the United States, an associate can become a registered representative with WFG's affiliate broker-dealer, Transamerica Financial Advisors, Inc., Transamerica Financial Group Division and offer securities products and services. Additionally, once properly licensed, an associate also can offer Investment Advisory services through the firm. In Canada, a properly licensed WFG associate can be a Transamerica Securities Inc. representative and offer mutual funds to their clients.
Own Your Future with World Financial group
At World Financial Group, you can create a career and lifestyle where you are in control. While helping others better their lives and own their futures, you are doing the same for yourself and your family.
As a WFG associate, you are:
Your own boss
In charge of your career and your financial future
Able to set your own schedule, determining the hours you work and when you can spend time with friends and family
Building your business as large as you want based on your personal drive for results Take advantage of our revolutionary business platform, and take charge of your life.
So World Financial Group offers a great opportunity for a business opportunity or / and as a financial plan for you and your family.

Chief Inspiration Officer
Vincent St.Louis
Fighting the forces of Mediocrity
`
Tags: Transamerica, WFG, World Financial Group, World Financial Group Transamerica