Life Insurance You Don't Have to Die to Use
As a self employed person most of my adult life and the sole bread winner for my family I always was concerned if something happens to me. As I got older I was equally concerned with illness or long term sickness if I could not provide for my family. As we get older we see more and more people we know going threw unforeseen health hardship. One friend broke his back out mountain bike riding and loss most of the use of his legs. Another friend suffered a stroke that caused partial paralysis. He was a VERY active and healthy person in his 40's. VincentStLouis.com is mostly about entrepreneurship and the homebased business industry. Part of our striving for success is about taking care of our families and protecting what we establish financially. I found piece of mind with a Life Insurance product You Don't Have to Die to Use. I feel it's very important for everyone.
Most adults have two main concerns.
1. Health and medical coverage
2. Long term care, critical, chronic and terminal illness coverage.
What if you suffer a heart attack, stroke, or invasive cancer and don't die? Would your family be able to maintain their standard of living if you were financially impacted by a serious illness?
  The whole idea of life insurance is peace of mind. Living benefit and Quality of Life Insurance goes the extra mile. It makes life insurance even better. The fact that I don't have to die for me and my family to have peace of mind is a good feeling. It's a nice, secure feeling. Fred I.*
The Living benefit or Quality of Life benefit as it's sometimes called is a one of kind life product for today's longer living world; it's a life insurance product that you do not have to die to use and would provide long term care, critical care, chronic and terminal illness coverage, for the same or less money that you may already be spending, if you already have a term policy. If you do not, then this would be a huge benefit for you and your family. It is two products in one, the true value of this Amazing product is how it will protect you and your Family's future.
Do you think a product like this, would be useful for your financial well-being?
I have two important questions for you?
Do you have a life insurance policy, you don't have to die to use?
Do you have the type of insurance that would replace your income for your family, if something were to happen to you?
If the answer i NO, How you feel about that?
The new Life Insurances are changing the way Americans think about, purchase and Use Life Insurance.
Life Insurance You Don't Have to Die to Use is a game changer.
Are you and your family prepared for Life's Surprises? You've always done your best to provide for, and protect, your family's financial security. But life has a funny way of coming up with unexpected situations to surprise you.
The Financial Impact of Illness – Recent studies show that nearly half of all Americans suffer from at least one chronic illness, and many of these people have one or more daily activity limitations. Chronic diseases—such as heart disease, stroke, cancer, diabetes, and arthritis—are among the most common and costly of all health problems in the U.S., and are also the leading causes of death and disability. You may not have considered it until now, but more and more Americans are learning that certain types of life insurance can play an important role in protecting their family's financial future when an unexpected chronic, critical or terminal illness happens.
Why Term Life Insurance You Don't Have To Die To Use Can Be the Difference.
  Term life insurance is one of the most important things you can put in place to provide financial protection for your family if you were to pass away unexpectedly. But did you know that there is a new kid in town. Term life insurance you don't have to die to use gives you early access to policy benefits to help pay your bills should you become stricken with a chronic, critical or terminal illness—even if you already have health insurance or Medicare coverage?
What Living Benefits Can Bring to Your Life If you are diagnosed with certain chronic, critical or terminal illnesses, allows you to accelerate a portion of your policy face amount to:
Replace income lost as a result of your illness
Provide for in-home care or facility needs
Any face amount not accelerated as living benefits will remain a death benefit for your loved ones after you pass away
WHY LIVING BENEFITS Term Life Insurance?
Many offer coverage from $25,000 to $999,999.
You may be eligible to receive coverage up to $249,999 without the need for a medical exam.
A choice of coverage periods — from 10, 15, 20, 25 and 30 years.
At a cost for most less than a cup of coffee a day
 Quality of Life Insurance is designed to help provide security for your loved ones in the event of your premature death, but it is also life insurance you don't have to die to use.
Do you think a product like this, would be useful for your financial well-being?
If I can show you, how I can truly benefit you and your family with a Quality of Life product, would you be interested?
I only need to get a little basic information from you, I can put something together for you and then you can decide, if what I share with you will truly benefit you in protecting you and your family's financial future.
Here are just two samples of life insurance you don't have to die to use I helped friends with. Click on image to enlarge.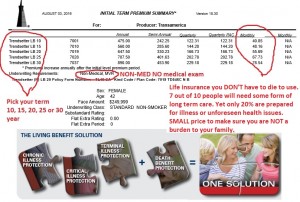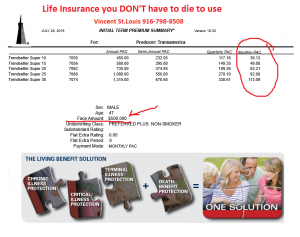 If you are looking for a new carrier the financial services might be a perfect fit for you. Take a look at these two links. http://WealthWaveinfo.com and http://learntokeepit.com
Life Insurance You Don't Have to Die to Use helps me sleep better at night.

Chief Inspiration Officer
Vincent St.Louis
Fighting the forces of Mediocrity
If you found this article on Life Insurance You Don't Have to Die to Use useful please comment and share it
`
Tags: Life insurance you don't have to die to use, Quality of life insurance, term life insurance, Trendsetter LB