Posted on July 27, 2022 | Filed Under Generic
Hello,
Do you have clearly defined goals? What are they?
Do you know how much you can possibly achieve in this business called real estate?
Are you thinking big enough? Even if you think you are, is it possible you can think bigger?
Big Decisions Are Made at Big Events!
That's why I'm personally inviting you to EXPCON 2022, Oct. 11-14 at Mandalay Bay in Las Vegas.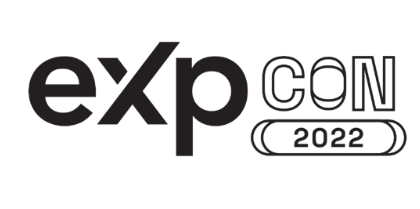 In 2014, a group of 75 people completed our first EXPCON together in Chicago, Illinois. This year, 8 years after the first EXPCON, thousands of eXp agents and brokers will be flying into Las Vegas with the goal of taking our businesses to the next level.
Top agents and brokers from around the world will be on stage, facilitating breakouts, speaking on panels, networking and sharing ideas on what is working in their markets.
Whether you are working with buyers, sellers, building your team, expanding to geographic markets, building your revenue share organization or establishing a brand in your local community there is something for you at EXPCON.
We have an early bird special to get tickets for the four-day event for $700 – and don't wait, the special expires on July 29. With less than 3 months left, EXPCON is just around the corner and you won't want to miss this opportunity to uplevel how you think about your business.
I 100% guarantee that EXPCON will uplevel your business if you play full out and engage. If you do play full out and engage and you don't believe the event was worth more than you paid to attend, I'll personally refund your ticket.
EXPCON is an amazing event, I know will help take your business to the next level and I'd love for you to attend.
Hope to see you there,
PS To join EXP Realty go to http://applyasagent.com/ to make sure you join with Brent and myself put Vincent StLouis as sponsor and join Brent and Vincent in making real estate fun again
Glenn Sanford, eXp World Holdings Founder, CEO and Chairman
Posted on July 26, 2022 | Filed Under Generic
eXp World Holdings to Announce Second Quarter 2022 Results on August 3, 2022
Management to Discuss Second Quarter 2022 Results and Host Investor Q&A at Virtual Event
BELLINGHAM, Wash. — July 26, 2022 — eXp World Holdings, Inc. (Nasdaq: EXPI), the holding company for eXp Realty®, Virbela and SUCCESS® Enterprises, today announced it will report its second quarter 2022 financial results before market open on Wednesday, August 3, 2022.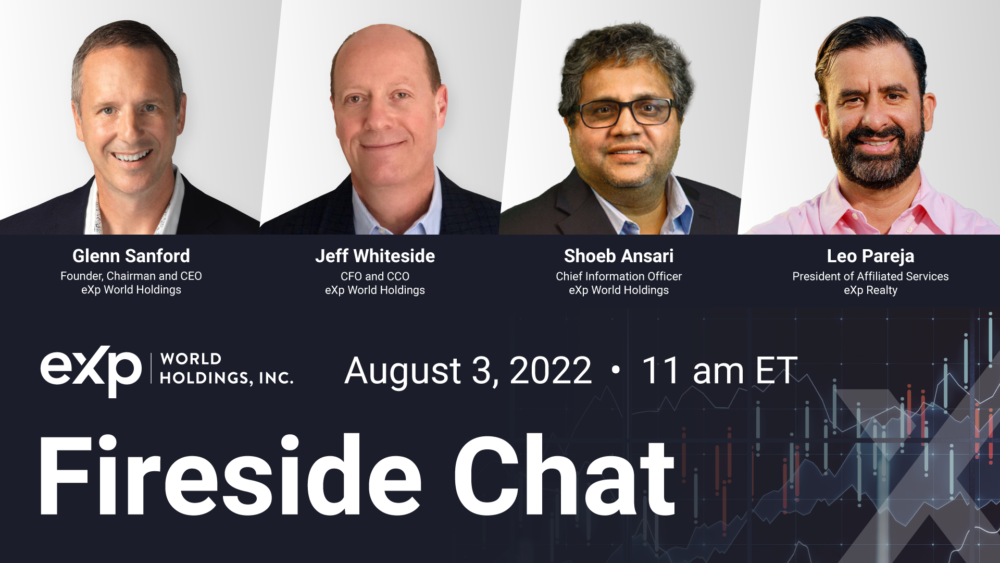 The Company will hold a virtual fireside chat and investor Q&A on Wednesday, August 3, 2022 at 8:00 a.m. PT / 11:00 a.m. ET with:
Glenn Sanford, Founder, Chairman and CEO, eXp World Holdings
Jeff Whiteside, CFO and Chief Collaboration Officer, eXp World Holdings
Shoeb Ansari, Chief Information Officer, eXp World Holdings
Leo Pareja, President of Affiliated Services, eXp Realty
The discussion will be moderated by Justin Ages, Equity Research Analyst, Real Estate and Technology, Berenberg Capital Markets.
The investor Q&A is open to investors, current shareholders and anyone interested in learning more about eXp World Holdings and its companies.
Second Quarter 2022 Investor Q&A
Date: Wednesday, August 3, 2022
Time: 8:00 a.m. PT / 11:00 a.m. ET
Location: EXPI Campus. Join at https://expworldholdings.com/contact/download/
Livestream: expworldholdings.com/events
About eXp World Holdings, Inc.
eXp World Holdings, Inc. (Nasdaq: EXPI) is the holding company for eXp Realty®, Virbela and SUCCESS® Enterprises.eXp Realty is the fastest-growing real estate company in the world with more than 82,000 agents in the United States, Canada, the United Kingdom, Australia, South Africa, India, Mexico, Portugal, France, Puerto Rico, Brazil, Italy, Hong Kong, Colombia, Spain, Israel, Panama, Germany, Dominican Republic, Greece and New Zealand and continues to scale internationally. As a publicly traded company, eXp World Holdings provides real estate professionals the unique opportunity to earn equity awards for production goals and contributions to overall company growth. eXp World Holdings and its businesses offer a full suite of brokerage and real estate tech solutions, including its innovative residential and commercial brokerage model, professional services, collaborative tools and personal development. The cloud-based brokerage is powered by Virbela, an immersive 3D platform that is deeply social and collaborative, enabling agents to be more connected and productive. SUCCESS® Enterprises, anchored by SUCCESS® magazine and its related media properties, was established in 1897 and is a leading personal and professional development brand and publication.
For more information, visit https://expworldholdings.com.
Safe Harbor Statement
The statements contained herein may include statements of future expectations and other forward-looking statements that are based on management's current views and assumptions and involve known and unknown risks and uncertainties that could cause actual results, performance or events to differ materially from those expressed or implied in such statements. Such forward-looking statements speak only as of the date hereof, and the company undertakes no obligation to revise or update them. These statements include, but are not limited to, statements about the continued growth of our agent and broker base; expansion of our residential real estate brokerage business into foreign markets; demand for remote working and distance learning solutions and virtual events; development of our commercial brokerage and our ability to attract commercial real estate brokers; and revenue growth and financial performance. Such statements are not guarantees of future performance. Important factors that may cause actual results to differ materially and adversely from those expressed in forward-looking statements include changes in business or other market conditions; the difficulty of keeping expense growth at modest levels while increasing revenues; and other risks detailed from time to time in the company's Securities and Exchange Commission filings, including but not limited to the most recently filed Quarterly Report on Form 10-Q and Annual Report on Form 10-K.
About this Post
Permalink | | Print This Article | Comments Off on eXp World Holdings to Announce Second Quarter 2022 Results on August 3, 2022

Posted on July 14, 2022 | Filed Under Generic
Welcome Zoocasa!
Everyone at eXp is so excited to welcome Zoocasa to the family! eXp World Holdings officially acquired Zoocasa Realty Inc. and its key property, Zoocasa.com, this month, making Zoocasa an operating entity within the eXp World Holdings, Inc. organization. That's the official way of saying they are now part of one of the fastest-growing residential real estate brokerages in the world!
This move advances eXp's strategic vision to strengthen our online lead generation, home search and listings portal solutions in Canada. In fact, through this acquisition we are reinventing lead generation and creating additional expansion opportunities, with a goal of reaching even more agents and customers across North America. This news truly is a testament to our continued investment in growth and differentiation!