Solavei
Solavei is the first company to create an economic linkage between mobile service, social commerce and social-networking technology.
There have been a bunch of interesting new business models floated about to turn the wireless industry on its head, but a new start-up called Solavei has what may be the most radical approach yet.
Looking to join Solavei? http://www.solavei.com/stlenterprises
 Solavei debuts today as a new social commerce company
with an affordable, contract-free mobile service. Solavei is addressing current economic challenges and the high cost of mobile service by actually paying back consumers for sharing Solavei with new members. Solavei members can earn income by sharing and signing up new members to purchase the mobile service through Solavei's integrated social networking platform. Solavie is taking the friends and family plan to a whole new level.
The Solavei Mobile Service is a comprehensive mobile service that utilizes T-Mobile's nationwide 4G network. Consumers sign up with no contract for a $49 per month of unlimited voice, text and data plan. Then by sharing the plan with friends and family can generate an income and get paid from every sign-up.
Ryan Wuerch, founder and CEO of Solavei said.
" Solavei is the first company to create an economic linkage between mobile service, social commerce and social-networking technology. We give people the opportunity to earn income by using and promoting the services they are already consuming each and every day. We are going to make a difference in people's lives by shifting billions of dollars from traditional mass-media advertising into the greatest advertising vehicle today – people. "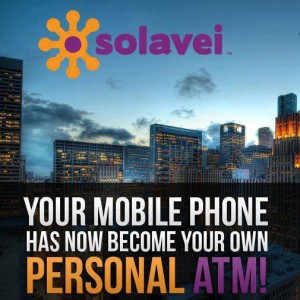 With Solavei's social media platform and mobile application,
members can generate income by introducing the Solavei Mobile Service to others. Members can grow their monthly income as they use their social networks to sign up more people for Solavei Mobile Service, turning their mobile phones into a profit generator. Members of Solavei earn $20 per month on every three mobile-service members that they or someone in their personal network add to Solavei it's called a "Trio". Members can generate income greater than their monthly plan cost of $49, by having three Trios in their network, essentially making their mobile service free. Solavei also has a one-time bonuses for signing up new customers within one's first 60 days as a member.
Solavei is what's known as a mobile virtual network operator,
meaning it offers cellular service to customers by buying wholesale access to one of the established wireless carriers. Operating on the T-Mobile 4G nationwide network, Solavei gives its members the flexibility to use a compatible unlocked GSM mobile phone, or they can purchase the HTC One S, HTC Wildfire or ZTE Origin from Solavei. Solavei's initial product offering is affordable, no contract, unlimited text, voice and data services throughout the United States.
Doug Chartier, senior vice president of T-Mobile said- "Solavei is introducing a first-of-its-kind approach to wireless, and we're pleased to have them as a strategic partner," "T-Mobile's network is a strong part of the Solavei offering, giving its members the benefit of a fast, dependable mobile data network with nationwide 4G coverage."
Solavei aims to distinguish itself from other types of multilevel marketing, and says it has applied for patents for its method of compensation. While it does compensate members not only for the people they bring in, but also for the people brought in by those people, compensation beyond that is tied to the overall growth of the organization.
"We believe we are breaking the mold on traditional marketing and creating a new type of marketing that creates a new type of opportunity," said Staci Wallace, a founding member of Solavei.
  Solavei is a social networking and commerce platform that enables users to connect, share and capitalize on the power of social networks.
Ryan Wuerch, founder and CEO of Solavei has set Solavei up for success with more than 140 full-time employees and contractors Ryan has partnered with more than 30 industry-leading partners, Solavei is poised to make commerce less expensive and even profitable for consumers nationwide.
Delivering Value to the Mobile Consumers
"Solavei is the first company focusing to capitalize on the intersection of mobile service and social media," said Roger Entner, founder and lead analyst of Recon Analytics. "This offering has the potential to revolutionize, not only the mobile service industry, but many different products and services."
Solavei Mobile Service is currently in pre-launch with thousands of members and will launch nationwide on Sept. 21, 2012.
Solavei plans to make modal services less expensive by empowering people to earn income on the products and services they use every day.
Chief Inspiration Officer
Fighting the forces of mediocrity
Post your comments, Is this a good opportunity or just a fad?
~
Tags: broadband, multilevel marketing, Ryan Wuerch, Solavei, wireless, wireless carriers