Never Make a Decision in a Valley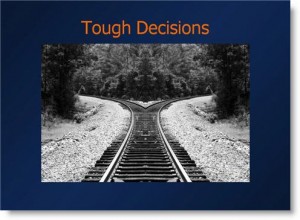 I'm reading the book Three Feet From Gold. Great book. On page 32 I read – Never make a major decision in a valley. What? I thought. I read on.
Most people in relationships and business will hit a wall or go through a major set back in their life or business then quit or make a change.
I started thinking about how many times in my business I hit a wall and wanted to quit or find a new company.
I see now why so many people quit their business or jump to a new company only to jump again and again. You will hit a wall, everyone does. But when you do hit that wall you must keep on keep-in on to get through the valley.
The valleys create high levels of emotion and no one can make a good decision when it's based on fear or disappointment.
How do you keep yourself from making major decisions in the valley?
First by understanding that every valley has a peak.  There will always be peaks and valleys you cannot have a mountain without a valley.
Second is with commitment: Write yourself a commitment letter. When you're on a peak,  a climb to the top, or maybe when you first get started in your business or new relationship and your commitment is high write a letter to yourself with your reasons why you made the choice you did and your goals with that decision so when you're in the valley you can read it and stay in one more day.
If you're in a valley be very careful not to make a major decision remember why you're here and stay in one more day then one more day before you know it you will be out of the valley and on your way to the top.
Tags: decision making