eXp Realty review
Here is an overview and eXp Realty review
Welcome to exp Realty. The following is an overview of one of the most innovative and fastest-growing real estate brokerage models. eXp Realty is a global community designed powered and owned by our agents and partners and is transforming the real estate experience. Exp's family of agents build their own businesses while having the opportunity to also establish a direct ownership interest in exp world holdings as a shareholder and partner. Technology is changing the world as we know it and real estate is no different our industry needs to adapt to the ever-changing technology landscape in order to remain valued by the consumer when buying and selling real estate. With a hundred and seventy-five percent year-over-year growth exp has expanded to over five thousand agents across 44 US states, Washington DC, and two Canadian provinces. exp believes that your career is your brand. There is nothing more important to your business than you, that's why we believe eXp agents self brand while following their state laws. After all when a buyer or seller chooses you as an agent they want you and not the company you're splitting your Commission with.
The benefits of exp start with disrupting real estate compensation as it currently stands through diversification. Every agent is on an 80/20 split that caps at $16,000 and year. Then you receive 100% of your commission for the remainder of the year. Additionally our revenue sharing model allows you to attract agents to exp, you then will share a portion of the commission that the company receives from the agent until they're capped. All while building a retirement plan that allows you to earn stock in six different ways.
In a tech driven world it's imperative that every agent has scalable technology tools and systems that enable their growth and success. Every eXp agent gets a fully integrated idx website, CRM and robust transaction management software. For non exp agents, these systems cost over five hundred dollars per month.
One of our top priorities is building our own core technology. exp enterprise gives agents instant access into their metrics and information to effectively run their business. Within your dashboard you'll be able to monitor your transactions, commissions, cap status, revenue share and more. Access over 25 hours of live training done weekly in our 3D cloud-based campus. The focus is on industry best practices at professional development these sessions are done by exp stop producing agents and go into a growing archive that can be accessed at any time via the cloud campus. Need help with tech our contracts? With just a few clicks of a button on your computer or phone you will have a live interaction with the exp support team.
exp Icon agent program is unparalleled to anything in the industry. At eXp we strongly believe the top producing agent should be rewarded for their value. There are two ways to earn icon status.
1) Close 20 transactions after selling $3 million or earn $500,000 in annual gross commission income. When you achieve icon status you will receive back the $16,000 in commission that you paid to the company in the form of stock. Our ticker symbol as expi. Every agent in exp is an owner. There are six ways to earn stock, every time you attract an agent, your first transaction, capping each year, achieve icon agent status, get 20% discount when purchased using your gross commission and you can buy it. Reach out today to get further details.
Welcome to exp world. Our cloud-based solution to the traditional real estate office. Meet learn and collaborate with agents and support staff from anywhere with an internet connection. Additionally every agent receives a global membership to the Regis shared office community. Join a meeting or training within our community wherever you are via your phone tablet or computer. In exp world, agents get real-time live support from our agent services technology and finance experts.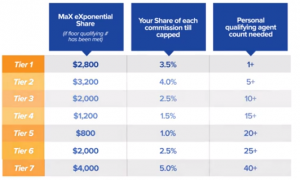 eXp's revenue sharing model allows you to build monthly residual income by attracting agents to our brokerage. The more agents you attract the more income you'll receive. Exp Revenue share is a top reason why agents are excited to be a part of exp. Here's the breakdown on how the revenue sharing model works.
Tier one contains the agents that you personally attracted. For each of their transaction on this tier you will receive 3.5 percent of the total Commission. This amount is taken out of the 20% paid into exp, NOT out of the agents 80%. Once the agent has hit their $16,000 annual cap then you no longer receive income from their deals for that year. Which is why the max you can earn on this tier per agent is $2,800. You can earn on all seven tiers but it is contingent upon how many agents you've directly attracted to the eXp brokerage.
For example if you attract 10 agents. You earn on tier 1 and tier 2 which are agents that your tier 1 agents attracted and also on tier 3 which are agents that your tier 2 agents attracted, but not on tier 4 through 7. This personal qualifying agent count is one of the reasons why eXp continues to be a profitable business. Let's go through a couple examples.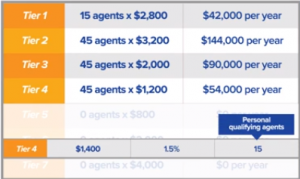 Example number 1 – We'll show you how you can create a monthly revenue sharing income of $7,800. If you personally attract five capping agents, then each of those five agents attract five capping agents of their own. Giving you five agents on tier one and twenty five agents on tier two. For the five capping agents on tier one you earn $2,800 each and for the 25 capping agents on tier two, you earn $3,200 each. Giving you an annual passive income of $94,000. Please note, these figures are based on each agent earning $80,000 in gross Commission income each year. For example using Commission rate of 2.5% an agent would cap at 3.2 million in sales volume annually.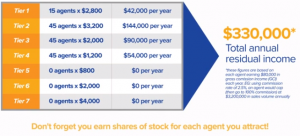 Example number 2 – We'll show you how you can create a monthly revenue sharing income of $27,500.
If you personally attract 15 capping agents,
who each attract 3 capping agents of their own, giving you 45 agents on tier 2,
who each attract 1 capping agent, giving you another 45 agents on tier 3,
who then each attracts 1 capping agent, giving you another 45 agents on tier 4.
Here we have broken down the revenue share income for each tier you're able to earn on, tier 1 through 4 since you have hit the personal minimum qualifying agent count of 15 as you can see in this example you have created a residual annual income of $350,000.
exp is honored to be a 2017 innovator of the Year finalist by Inman and a 2017 top workplace by The Washington Post two years in a row.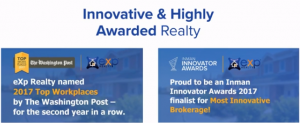 For a more in-depth eXp overview I recommend you watching the whole eXp explained webinar. >>>>HERE<<<<

I hope you get excited about the eXp Realty opportunity like we are.


Chief Inspiration Officer
Vincent St.Louis
Fighting the forces of Mediocrity
If you found this article on eXp Realty review useful please comment and share it
`
Tags: brent gove exp, exp leading tem, exp revenue share, exp review, exp top team, gene fredrick exp, rob flick exp