The End of Wealth and Retirement as You Know It
Watch This Video >>>>>>  The End of Wealth and Retirement as You Know It
The End of Wealth and Retirement as You Know It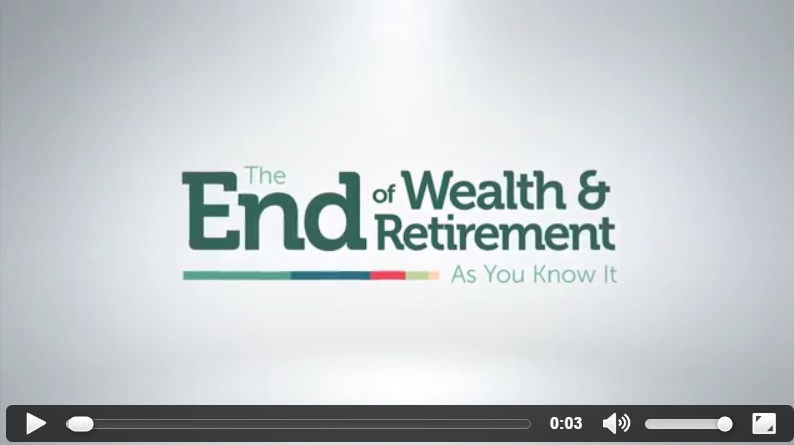 World War II has just ended.
Invigorated by victory overseas and a rebounding economy, the U.S. experiences a historic
surge of births. 92% of all women who can have babies do – averaging just under four each. 10,000 babies born every day 4 million a year 76 million over two decades.
Dwarfing the generations before them, the Baby Boomers are the new lifeblood of America. Industries are challenged to meet their overwhelming needs.
Diapers for 76 Million babies.
Bicycles for 76 Million children.
Cars for 76 Million adults.
Homes for 76 Million newlyweds.
The Baby Boomers begin having their own children – Generation X, numbering more than 82 million.
 Like the Boomers, Gen-X'ers grow up in an era of domestic prosperity and stability.
 The stock market trends consistently upward.
Recessions are short lived.
Market losses are quickly regained.
As the Baby Boomers and Generation X take command of the corporate world, the Post World War II generation begins retiring. The market continues its steady climb, rewarding those who buy and hold investments. Little financial education is needed for retirees to enjoy the easy life. They simply follow the proven 3-Legged Stool of Retirement.
 Grow savings in the market.
Live off Social Security
and company pension checks.
It's a reliable, hands-off model used successfully by millions before them: work hard for several decades, then the market, the government, your company will one day take care of you. For those who followed the model, retiring at 65 is a time to slow down, relax, and enjoy time with family. Just 10 years after retirement, retirees of the Post World War II generation begin to die as they reach the average life expectancy of 75 years.
The Baby Boomers begin collecting inheritance as Generation X sends their children off to school. These are the Millennials – also called the New Boomers – numbering about 80 million strong.3 The U.S. economy has never appeared stronger. Prosperity has never felt more assured. Opportunity has never seemed more abundant. The future for the current generations has never looked brighter. The 3-Legged Stool of Retirement will take care of today's generations just like it did for revious ones. Markets will continue to climb steadily and grow their wealth. Social security and company pensions will provide a reliable income when paychecks stop. The easy life awaits.
 Baby Boomers, Generation X, and Millennials have every reason to believe it will all be theirs at. Unfortunately, they couldn't be more wrong.
Over the following decade, two monumental events will reach their tipping points, transforming the economy and society. A revolutionizing economic shift and dramatic life lengthening advances in science will reshape the future for everyone in America leaving millions in desperate need for a new way forward. These events will mark the end of how our nation built wealth and retired… forever.
 The first of these two events emerges at the threshold of the new millennium.
After decades of steady trending growth, a volatile turbulence rocks the stock market. During this period of ups and downs, two of the market's greatest declines in history have engulfed investors in the perfect storm.
The economic calamity rises to its peak during the Great Recession.
Millions of fortunes are lost.
Countless nest eggs are broken.
The timing for the nation couldn't have been worse.
The massive Baby Boomer population begins reaching retirement age in the midst of the
economic tempest, completely unprepared.
For many, an entire decade of market gains are gone.
Two out of three Baby Boomers are not confident they have enough money to live on.
The harsh reality?
They must keep working and find a way to protect and grow what's left of the money they have. Generation X is in the middle of their career while the Millennials are just starting out. For these young generations, the financial future is an uncharted wasteland.
For Generation X, salaries are not keeping up with inflation. Over 40% have less than $50,000 saved. About 30% have no savings at all.
Millennials are in worse shape.
35% more Millennials than Baby Boomers have financed their education through student loans. With the burden of student loans and a scarcity of jobs in their field of study, few Millennials are saving for the future. Along with personal savings, the other two legs of the traditional retirement stool continue to crumble – Social Security and company pensions.
 When the Baby Boomers were born, there were 45 workers for every retiree collecting Social Security.
Now it's less than 3 to 1 – an unsustainable ratio that calls the future of Social Security into question. Though pensions were declining before the Great Recession, the corporate world has now all but abandoned them. Colliding with the economic devastation, is the other transformational event. Advances in medicine, nutrition, and technology have stretched the average human life span beyond 75 years, adding an additional two decades or more. Baby Boomers and following generations can now expect to live well into their 80's, 90's, or longer. Seemingly a blessing, this new expectation poses a terrifying threat – the likelihood of going broke in old age. 61% of people are more afraid of outliving their money than dying.
An unstable economy.
An unreliable market.
The collapse of the old retirement model.
The financial burdens of a longer life.
It's the end of wealth and retirement as you know it.
And with it… a new beginning.
Yesterday's financial models may be gone, but prosperity in our nation is far from over.
The realities challenging today's generations have triggered an unprecedented wave of financial activity with billions of dollars and millions of people on the move.
This Wealth Wave has ushered in The Greatest Economic Story of Our Time. The leaders of the financial industry will position themselves to serve Baby Boomers, Generation X, and Millennials by redefining how wealth is built and how people can thrive after 65.
Tens of thousands of new financial professionals are needed at a time when their ranks are aging and their numbers are diminishing.
Someone must respond to this critical need with a new wave of financial professionals for the future.
 That someone – that wave is us, WFG, World Financial Group.
Although more and more people are in need of investment advice as Baby Boomers begin to retire, surprisingly, the number of financial professionals has dropped.. – 'Advisor head count fell in 2007, Cerulli study finds,' Investment News, 2008. We are responding to this crisis with our biggest expansion in three decades. Our company has recruited over 100,000 new associates in 2014,10 equipping them with innovative strategies to serve as financial professionals who can make a difference.
 Only four states in the U.S. offer a financial education in public schools.
Our nation has paid the price. We offer an unparalleled financial education to those who have never been exposed to such essential concepts as The Rule of 72, The Power of Compound Interest, and The Impact of Losses and Taxes.
We help families protect their income, own their future, and leave a legacy with financial vehicles designed for the realities of today – like indexed products that have evolved to offer a wide array of benefits. We provide a world-class wealth management platform that offers everyday investors a financial game changer – access to Active Management strategies that were once only available to the very wealthy. And finally, and perhaps most importantly, we open the doors for anyone – regardless of their age or experience – to become part of The Wealth Wave by building their own financial services business.
Our entry level leaders (many part-time) with full licensing average over $80,000 per year in earnings, with the highest exceeding $640,000. Associates at our top executive positions are averaging more than $960,000 annually, with the highest earning over $10 million this year alone.
Our business is an entrepreneurial opportunity with no boss, no salary caps, no required work hours, no layoffs, and no limits on how much you can earn or how fast you can grow. You can earn income from your own efforts and from those of your team and you can earn income from products that produce first year and recurring revenue. It's a business that can give you the three things you may have thought you'd lost forever – the chance to make a difference, the opportunity to build personal wealth, and the hope that your later years will be lived on your terms. Regardless of your age or experience, this could be the right business at the right time for you.
Few opportunities give you the support of some of the financial industry's strongest and most recognizable names. Put our company's history, experience, and reputation behind you and become part of a championship team.
In this new frontier of wealth and retirement, Baby Boomers, Generation X, and Millennials all around you need a financial professional with a way forward. If you're seeking an opportunity to redefine your future, consider our team your new beginning.
"Your future will be determined by how you respond to the realities of your generation."
The time to respond is today. Contact the person who referred you to this video and let's explore the future together.