Goal Setting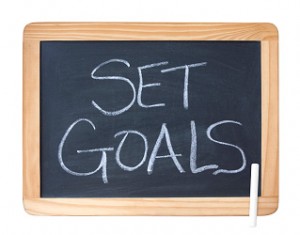 First off you have to set goals. I'm not getting into that right now, we know we should be setting goals. What I want to talk about is how to.
I would like to give you a little advice on how to set your goals
If the goal is to make a million dollars a year and you have only made 50k a year or if you want to reach that triple diamond level in your business, but you have never reached the 1000 level. Think about this, the subconscious can only see so far in advance.  If you have never made over 50k a year, when you say or write down that you want to make 1 million a year, your subconscious cannot believe that. You must break down the goal in increments that your subconscious can see.
For example, I am making 100k a year in one year, then I am making 300k in two years, I am making 1 million a year in five years or 10 years.
It's like setting a goal to make five contacts a day every day, but you have never made one contact a day for five days in a row. Your subconscious can't believe it, therefore you don't do it. Set a goal to talk to one person a day for five days in a row, then set it to three a day five days a week, then do it for four weeks in a row and keep stretching yourself.
Most of the time people bite off more then they can chew, then they get discouraged. At first you must set goals so you can win. There is nothing better for your belief and your subconscious to build belief as winning. Winning builds selfconfidence, selfconfidence create action, action builds belief and that will create accomplishment. It's a vicious cycle. So set your goals high, but build up to it. Start with winning in mind. Build your subconscious up. It can believe more than you will ever believe, but it has to be built like a muscle.
Remember have a big dream the worst that will happen is a small dream will come true.