Generate Web Traffic
Generate Web Traffic – Use SEO
A critical pieces in building a online business is learning how to generate web traffic. There are many different methods, but today I wanted to share you a low cost method I use every day.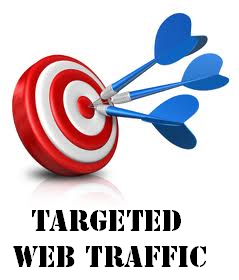 Generate Web Traffic – Using SEO
In building a business online one of the cool things is that there are a lot of ways to generate web traffic. The main ways are free and paid. One takes money the other takes time. If you have more time than money you need to get good at SEO. If you have more money the time the sky's the limit. You need to understand that time is money. You will find that the more you can outsource the more you will free up your time.
Let's talk about how to generate free web traffic using SEO.
SEO stand for Search Engine Optimization. It is basically the art of using keyword and keyword phases so search the engines like Google, Yahoo, and Bing will drive their customers to you. It's like opening a store and allowing people to visit depending on their needs. This method can create a lot of traffic but it does take time and a good amount of research to find keywords and phrases that are being researches with low competition. There are many other ways to drive traffic to your website, like social network syndication and paid advertisements, but SEO in my is one of those things that you need to do and it's a cost effective way to generate web traffic and SEO is a way that works for me and my business.
Generating web traffic using SEO take a couple of skills
Keyword Research
Keyword research is the primary principle of SEO. The search engines will not find you if you're not getting good keywords and the effort is your SEO will suffer. Keyword research in a nutshell is the way search engines find YOU. You really don't need to worry about writing for the reader or the search engine robots the more you write you will find it really easy to write for both.
Keyword Research isn't too hard if you understand a couple of things.
1) Find keywords that have traffic. It's much easier to get traffic using keywords people are already searching for. It may take a little time to get the hang of it, but after you do you will find it rather easy to write around a keyword or phrase or even tweak your writing to fit a keyword.
2) Find keywords that you can possibly win at. What this means is to find keywords that don't have too much traffic or too much competition. No need to go after the big fish look for key words that you have a chance of ranking for. It's better to get some traffic with small keyword competition then to go after the super competition. At first look for keyword with less than 1000 hits a month. Then as you increase your authority slowly move up to less than 3000 a month keywords. The process of SEO is a gradual build up of traffic. Make sure you don't get the home run mentality it will not pay off. Sure if you write enough and your have enough mileage under your belt you will experience these home run keywords but for the most part 90% of what you write about early on will not do too much for your traffic.
Learn To Generate Web Traffic and watch your results turn for the better.
Chief Inspiration Officer
Fighting the forces of mediocrity.
`
Tags: Generate Web Traffic