What is True Leadership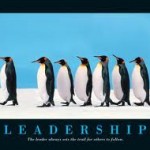 Leadership is not the ability to lead it's the ability to follow. Follow one's heart, follow others, follow your purpose.
Leadership is the ability to serve
Your purpose is so strong and your ability to express this purpose to others with passion to where they acquire the same purpose. Developing a following is not how well you get others to follow you, rather it's your passion resonating with others and your ability to serve them in your quest to come together for this common purpose.
Leadership is the ability to lead with passion and to have the power to know what's right
Leadership is the power to say you're sorry and make corrections along the way. Leadership is the ability to lead by example and pave the way not just sit up on your pedestal teaching what you know.  A Leader does the grunt work not because it needs to be done, but because it must be done.
A true leader  leads with his heart and serve with his soul.
Vincent StLouis