Bill Britt died Amway legend passed at 81
Bill Britt died the legend of Amway has passed at age 81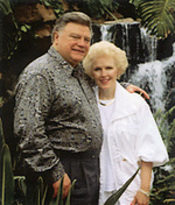 Bill Britt was many time controversial, but there is no doubt  he was a pioneer in the direct sales industry.
So many network marketers made their start in Amway. Anyone that was in Amway knew the name Bill Britt along with the name Dexter Yager. Bill and Peggy Britt are very well known in the direct sales industry.
With all great leaders there are always those that did not like Bill Britt and many that did. But one thing you can not deny is that Bill Britt change the network marketing industry in so many ways. Bill Britt dead at age 81 and he will be missed by many. My condolences go out to Bill Britt's family and friends. God Bless you Bill Britt thank you for all you did.
Bill Britt was a Crown Ambassador with Amway. William "Bill" Britt has passed away at the age of 81. Britt WorldWide, was one of the most successful yet controversial distributors in Amway's history. Bill and his wife Peggy joined Amway in 1969, ten years after the company began Bill and Peggy built one of the largest Amway businesses in the world. They reached Crown Ambassador in 1996. In 2004 they were recognized as Founders Crown Ambassador, FAA 40, there are only 14 Amway distributorships in the world to have reached that level.
 Bill Britt died today and will be GREATLY missed
The Britts are downline of Founders Crown Ambassador Dexter Yager, and were an integral part of the success and expansion of the "Yager System" in the 70s and 80s. The Britt's eventually founded their own business support company, Britt WorldWide, which grew around the world, reaching great success particularly in India, where the Britt's developed a second large Amway business, reaching Crown in 2009.
Their success was not without controversy however. Britt's firebrand approach, with no apologies for mixing his strong evangelical Christian faith, political beliefs and business attracting devotion from many but criticism from others. In 2004 the Britt organisation was the focus of a Dateline NBC investigation into Quixtar (now Amway North America) and several of his downline distributors were disciplined by Amway as a result.

Chief Inspiration Officer
Vincent St.Louis
Fighting the forces of Mediocrity
If you found this article on Bill Britt died Amway legend passed at 81 useful please comment and share it